The first official image of Jackie Earle Haley as Freddy Krueger in the remake of "A Nightmare on Elm Street" has been released, showing a shadowy Freddy ready for action.
Producer Brad Fuller (Friday the 13th, The Unborn, The Texas Chainsaw Massacre) says that another image will be released later on IGN.
The remake of the 1984 horror classic directed by Wes Craven aims to keep the high school setting and delve deeper in the psychology of nightmares and Freddy Krueger himself.
The film is being directed by first-time filmmaker Samuel Bayer who got his start directing commercials, also stars Rooney Mara, Kyle Gallner, Thomas Dekker, Kellan Lutz, Katie Cassidy and Connie Britton.
"A Nightmare on Elm Street" will be heading to theaters on April 16, 2010.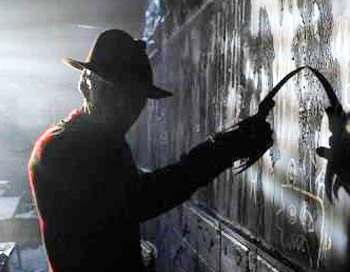 What do you think?