Movie News
One More Race Between Inception and Social Network at French César Awards?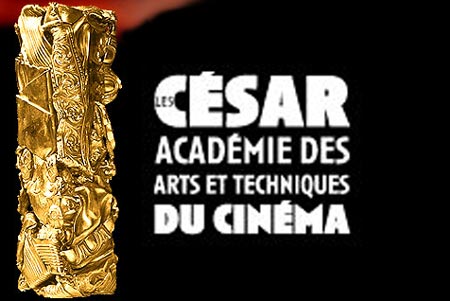 It's not all just about Oscar this month! It's about
César Awards
as well, or, if you prefer, we're here to talk about 'French Oscar' that will take place on February 25 in Paris. So, let's start by saying that this morning at a press conference the president of the Académie des arts et techniques du cinéma, Alain Terzian announced
Quentin Tarantino
is the recipient of the ceremony's honorary award.
Congratulations!
And this is not the only reason for congratulation, because the Inglourious Basterds director will pick up his trophy in person. It already sounds like an American night is coming, especially when we know that even three American movies are among the seven nominees for
Best Foreign Film
:
Christopher Nolan
's
Inception
,
David Fincher
's
The Social Network
and
Clint Eastwood
's
Invictus
. Xavier Beauvois' film
Of Gods and Men
(Des hommes et des dieux) has been nominated for 11 awards, including best movie of the year, and it will compete against
Roman Polanski
's
The Ghost Writer
, which has received eight nominations.
Johann Sfar
's biopic
Gainsbourg
, about the famed French singer, was also nominated in eight categories including best film, best first film and best actor for
Eric Elmosnino
. On the other hand,
Bertrand Tavernier
's
The Princess of Montpensier
and
Mathieu Amalric
's
Tournée
received seven nominations.
Jodie Foster
will preside over the annual awards that will, let us remind you once again, take place in Paris on February 25, 2011. So, check out a complete list of nominees:
Best Movie
L'arnacoeur by Pascal Chaumeil
Le nom des gens by Michel Leclerc
The Ghost Writer by Roman Polanski
Tournée by Mathieu Amalric
Des Hommes et des Dieux by Xavier Beauvois
Gainsbourg (Vie Héroique) by Joann Sfar
Mammuth by Benoît Delépine and Gustave Kervern
Best Director
Matthieu Amalric for Tournée
Olivier Assayas for Carlos
Xavier Beauvois for Des Hommes et des Dieux
Bertrand Blier for Le bruit des glaçons
Roman Polanski for The Ghost Writer
Best Foreign Movie
Best Actress
Isabelle Carré for Les Émotifs Anonymes
Catherine Deneuve for Potiche
Sara Forestier for Le Nom des Gens
Charlotte Gainsbourg for L'arbre
Kristin Scott-Thomas for Elle s'appelait Sarah
Best Actor
Gérard Depardieu for Mammuth
Romain Duris for L'arnacoeur
Éric Elmosnino for Gainsbourg (Vie Héroïque)
Jacques Gamblin for Le Nom des Gens
Lambert Wilson for Des Hommes et des Dieux
Best Supporting Actress
Anne Alvaro for Le Bruit des glaçons
Valérie Bonneton for Les Petits Mouchoirs
Laetitia Casta for Gainsbourg (Vie héroïque)
Julie Ferrier for L'arnacoeur
Karin Viard for Potiche
Best Supporting Actor
Niels Arestrup for L'homme qui voulait vivre sa vie
Francois Damiens for L'arnacoeur
Gilles Lellouche for Les Petits Mouchoirs
Michael Lonsdale for Des hommes et des Dieux
Olivier Rabourdin for Des hommes et des Dieux
Best Animated Movie
Arthur 3 : la guerre des deux mondes by Luc Besson
L'homme à la Gordini by Jean-Christophe Lie
L'Illusioniste by Sylvain Chomet
Logorama by H5
Une vie de chat by Jean-Loup de Felicioli
Best Documentary
Benda Bilili by Florent de La Tullaye
Cleveland vs Wall Street by Jean-Stéphane Bron
Entre nos mains by Marianne Otero
Océans by Jacques Perrin
Yves St Laurent – Pierre Bergé : L'amour fou by Pierre Thoretton
Best Short Film
Logorama
Petit Tailleur
Une pute et un poussin
Monsieur L'Abbé
Un transport en commun
Best Adaptation
Julie Bertucelli for L'Arbre
Robert Harris and Roman Polanski for The Ghost Writer
Eric Lartigau and Laurent de Bartillat for L'Homme qui voulait vivre sa vie
François Ozon for Potiche
Bertrand Tavernier, Jean Cosmos and François Olivier Rousseau for La Princesse de Montpensier
Best Original Screenplay
Mathieu Amalric, Marcello Novais Teles and Philippe di Folco for Tournée
Bertrand Blier for Le Bruit des glaçons
Xavier Beauvois for Des Hommes et des Dieux
Gustave Kervern for Mammuth
Baya Kasmi and Michel Leclerc for Le Nom des gens
Best First Film
Simon Werner a disparu by Fabrice Gobert
L'Arnacoeur by Pascal Chaumeil
Gainsbourg by Joan Sfar
Tout ce qui brille by Géraldine Nakache
Tête de Turc by Pascal Elbé
Breakthrough Actor
Pio Marmai for D'amour et d'eau fraiche
Edgar Ramirez for Carlos
Arthur Dupont for Bus Palladium
Raphael Personnaz for La Princesse de Montpensier
Grégoire Leprince Ringuet for La Princesse de Montpensier
Breakthrough Actress
Audrey Lamy for Tout ce qui brille
Leila Bekhti for Tout ce qui brille
Yahima Torres for Vénus Noire
Anais Desmoustier for D'Amour et d'eau fraîche
Léa Seydoux for Belle Epine
Best Editing
Hervé Deluze for The Ghost Writer
Marilyne Monthieux for  Gainsbourg (Vie Héroique)
Annette Dutertre for Tournée
Luc Barnier for Carlos
Marie-Julie Maille for Des Hommes et des Dieux
Best Original Music
Bruno Coulais for Océans
Alexandre Desplat for The Ghost Writer
Grégoire Hetzel for L'Arbre
Delphine Montoulet and Tony Gatlif for Liberté
Yarol Poupaud for Bus Palladium
Philippe Sarde for La Princesse de Montpensier
Best Sound
Philippe Barbeau, Jerome Wiciak, Florence Lavallé for Océans
Jean-Marie Bondel, Thomas Desjonqueres, Dean Humphreys for The Ghost Writer
Jean-Jacques Ferrand, Vincent Guillon, Eric Bonnard for Des Hommes et des Dieux
Olivier Meauvezin, Severin Favriau, Stéphane Thiebaut for Tournée
Daniel Sobrino, Jean Goudier, Cyril Holtz for Gainsbourg (Vie Héroique)
Best Photography
Christophe Beaucarne for Tournée
Caroline Champetier for Des Hommes et des Dieux
Pawel Edelman for The Ghost Writer
Bruno Keyzer for La Princesse de Montpensier
Guillaume Schiffman for Gainsbourg (Vie Héroique)
Best Costume
Olivier Beriot for Adele Blanc-sec
Pascaline Chavanne for Potiche
Alicia Crisp-Jones for Tournée
Marielle Robaut for Des hommes et des Dieux
Caroline de Vivaise for La Princesse de Montpensier
Best Set
Michel Barthélémy for Des Hommes et des Dieux
Guy-Claude François for La Princesse de Montpensier
Albrecht Konrad for The Ghost Writer
Christian Marti for Gainsbourg (Vie Héroique)
Hugues Tissandier for Adele Blanc-sec