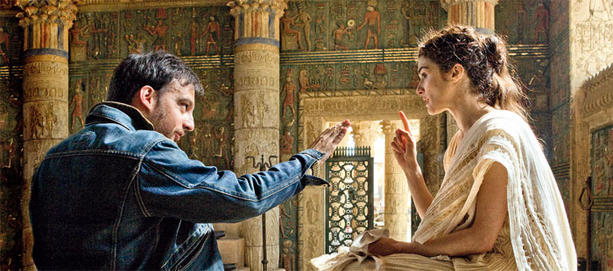 First images from the set of Alejandro Amenbar's "Agora" are online.
Fotogramas.es
has a pair of images of Rachel Weisz as Hypatia, an Alexandrian astrologer-philosopher struggling to save the collected wisdom of the ancient world. "Agora" is set in the fourth century A.D. in Roman Egypt is an adventure drama movie. It also stars
Max Minghella
as Hypatia's slave, Davus. The film also stars
Oscar Isaac, Ashraf Barhom, Homayoun Ershadi, Jordan Kiziuk, Michael Lonsdale, Rupert Evans
and
Richard Durden.
The Others
" (
Nicole Kidman
). He previously directed "
The Sea Inside
," which won the
Best Foreign Language Film Oscar
in 2005. "Agora" is currently in post-production and slated to come out on December 18th 2009.