Movie News
Sony Pictures Acquire Steve Jobs' Biography For Feature Film?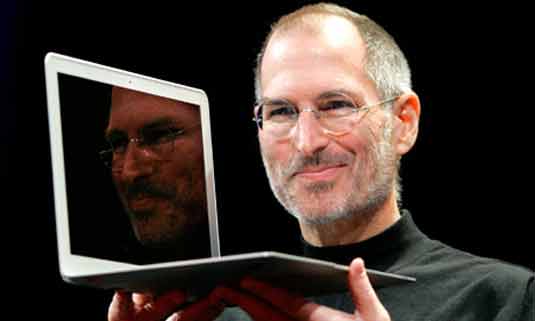 I think we're having fun. I think our customers really like our products. And we're always trying to do better.
That's one of
Steve Jobs
' quotes, but now it looks that Hollywood is having all the fun in the world. Should we blame them? Jobs' life is a huge potential, and when Hollywood smells the potential, then you know what comes next – a movie, a biography, probably an Oscar nomination, and so on… As you already guess, we have a rumor that Sony Pictures (who is behind
The Social Network
and
Moneyball
as well) is making
a hefty deal
to acquire feature rights to Steve Jobs, the upcoming authorized biography by former CNN chairman and Time Magazine managing editor
Walter Isaacson
. Isaacson book was supposed to be published on November 21st by Simon & Schuster but now it looks that the release date has moved up to October 24th. As
Deadline
reports, this will be an MG360 project, which is the film production partnership between Gordon and Management 360. Isaacson book is based on more than forty interviews with Jobs conducted over two years—as well as interviews with more than a hundred family members, friends, adversaries, competitors, and colleagues. They describe it as a riveting story of the roller-coaster life and searingly intense personality of a creative entrepreneur whose passion for perfection and ferocious drive revolutionized six industries: personal computers, animated movies, music, phones, tablet computing, and digital publishing. At a time when America is seeking ways to sustain its innovative edge, and when societies around the world are trying to build digital-age economies, Jobs stands as the ultimate icon of inventiveness and applied imagination. He knew that the best way to create value in the twenty-first century was to connect creativity with technology. He built a company where leaps of the imagination were combined with remarkable feats of engineering. Although Jobs cooperated with this book, he asked for no control over what was written nor even the right to read it before it was published. He put nothing off-limits. He encouraged the people he knew to speak honestly. And Jobs speaks candidly, sometimes brutally so, about the people he worked with and competed against. His friends, foes, and colleagues provide an unvarnished view of the passions, perfectionism, obsessions, artistry, devilry, and compulsion for control that shaped his approach to business and the innovative products that resulted. Any comments?