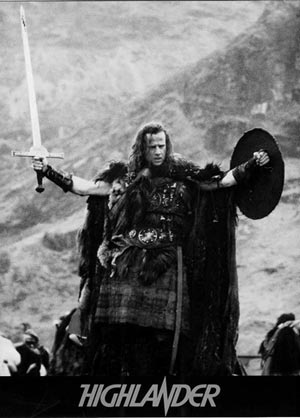 Summit Entertainment
are set to restart the "
Highlander
" franchise with a brand new movie.
Variety
reports that the company will produce the film after hiring "
Iron Man
" screenwriters
Art Marcum
and
Matt Holloway
to pen the script. The plan is to expand on the original pic's premise of immortals battling each other for a mysterious prize.Apparently the new film will mix contemporary settings, action, mythology and medieval Scotland.
Peter Davis
, who produced the original movie will return to produce the new one. Davis said the new "Highlander" will not just be a remake but will incorporate more backstory elements and prequel aspects that will be fleshed out to expand the story line in a way that is inventive yet faithful to the original story. He also said romance was key to the series' popularity and would be a central theme in the new film. "I would hate to think that people viewed 'Highlander' as a sword fighting movie because it's much more than that," he said. "The issues of an immortal falling in love with a woman and knowing she's going to grow old and die in your arms, those are very romantic issues to deal with."