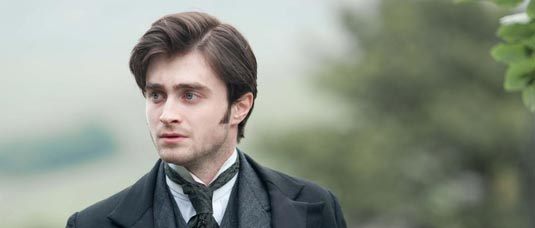 If you are a fan of ghost stories, here's something for you. A teaser trailer for the upcoming The Woman in Black has been released. So, check out this 'a little bit creepy' teaser below.
The film, based on Susan Hill's novel of the same name, centers on a young lawyer (Daniel Radcliffe) visiting a remote English town that holds many ghostly secrets.
The film is directed by James Watkins (Eden Lake) from the script by Jane Goldman (Kick-Ass).
Here's The Woman in Black synopsis: The story follows a young lawyer, Arthur Kipps (Radcliffe), who is ordered to travel to a remote village and sort out a recently deceased client's papers. As he works alone in the client's isolated house, Kipps begins to uncover tragic secrets, his unease growing when he glimpses a mysterious woman dressed only in black.
Receiving only silence from the locals, Kipps is forced to uncover the true identity of the Woman in Black on his own, leading to a desperate race against time when he discovers her true intent.
Radcliffe stars alongside Ciaran Hinds, Liz White, Janet McTeer and Alisa Khazanova, in The Woman in Black, which is due to hit theatres in the UK on February 10th, 2012. US release date is currently unknown.
[youtube]http://www.youtube.com/watch?v=X9vptC-iqNY&feature[/youtube]
The Woman in Black Teaser Trailer