Movie Posters
THOR: THE DARK WORLD Posters and Trailer Description; Definitely Attached To Premiere Of Iron Man 3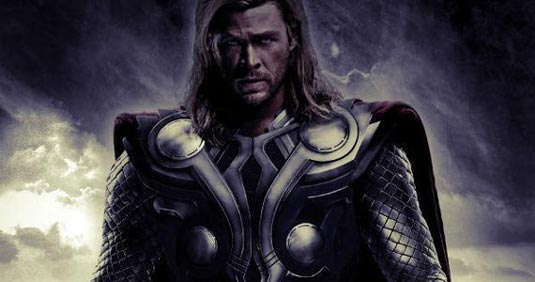 So far, from all of the Marvel's Phase II movies, Iron Man 3 has dominated headlines with trailers, posters, art work, a world press tour and more, leading up to its just-behind-the-corner release as the first 2013 summer feature.
Alan Taylor
's
Thor: The Dark World
has been more or less behind the curtain (with only a few on-the-set pics and videos, some concept art and a few
official photos
), but that is soo to be changed. Firstly, because I have these first official posters for the film, and secondly, because the first teaser trailer is definitely to be attached to the Iron Man 3 premiere! (there were some
vague confirmations
, but nothing final) You can check out the posters showing
Chris Hemsworth
as titular Asgardian below (one via
Marvel Cómics México Facebook page
, another on official
Thor Facebook page
), and afterwards read on for more on trailer:
A week ago, Nigel Cook, Vice President of Marvel International, took to the stage during the Disney Consumer Show in Mexico, in a presentation about the Marvel Cinematic Universe. In addition to showing Iron Man 3 footage – as a surprise for the attendees – Cook also introduced and played the first trailer for Thor: The Dark World and as a result – much like the leaked Iron Man 3 trailer description – we have a summary of some of the key scenes in it, thanks to the kindness of said Marvel Cómics México Facebook page. It was a quick introduction with no explanation as Marvel let the footage speak for itself. Thanks to
ScreenRant
, which translated and summarized their description of what was shown (so quotes may not be completely accurate), we can present to you what was happening. The Thor: The Dark World segment began with a slideshow of familiar images and set photos, before playing the full trailer:
Trailer opens with Thor's voiceover, as quick scenes of action are shown, along with Jane Foster in her Asgardian attire and people on Earth running from "something" Thor tells Jane he promised he would return and scenes are shown of Thor coming to Earth and taking Jane to back to Asgard. The action sequences are reportedly "incredible" and Thor is shown taking a beating. He's fatigued and Malekith, leader of the Dark Elves, is shown completely unafraid of Thor. A futuristic glass prison is shown, and Loki sits within after the events of The Avengers. Thor comes to him and says "I need your help, but if you betray me, I will kill you." Loki [smirking] responds:  "What is it I must do?" Thor is shown fighting Malekith as Jane watches. Malekith threatens her, as a beaten Thor eyes the Dark Elf King and screams "Noooo!"
Cook also explained at the event that fans will see this same trailer in "15 days" – on April 26th – which is the Mexican and European theatrical release date for Iron Man 3. Unfortunately, we don't have more details, but we can expect to see many Asgardian soldiers along with Sif and the Warriors Three in battle, alongside Thor. Now we only need to hold our breath until May 3rd! Agent M. – a.ka. Ryan Penagos, the executive editor at Marvel Digital and Marvel.com – has confirmed that the trailer for Thor: The Dark World will be dropping next week. Check out his tweet below:
I can confirm that the teaser for #ThorDarkWorld will arrive next week! Much more info soon! — Ryan Penagos (@AgentM) April 18, 2013
Iron Man 3 opens on May 3rd, 2013, while Thor: The Dark World is expected on November 8th, 2013, so stay tuned for more on Thor!