Movie Trailers
Watch: V/H/S/2 'Zombie Attack' Clip (Updated With New Poster)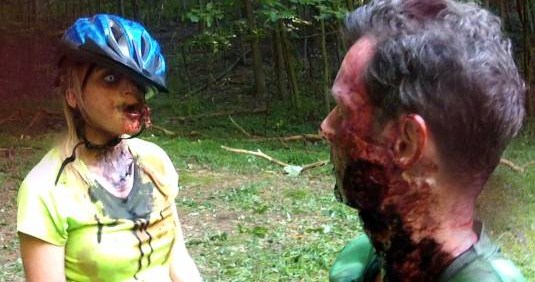 Ready for a zombie attack? Well, I'm sure that horror-fans are already enjoying in V/H/S/2 (the pic just hit VOD), but as we previously reported – the movie arrives in theaters this July, so the rest of us have nothing to worry about. Here's a brand new bloody clip (plus poster) from the whole thing, hope you'll like it! We already shared a green band (and red band) trailer for V/H/S/2, which is set to hit theaters on July 12th, 2013, so I'm sure you know all important details about the sequel to the last year's V/H/S, right? It features a series of found-footage shorts directed by Gareth Huw Evans, Simon Barrett, Adam Wingard, Edúardo Sanchez, Gregg Hale, Timo Tjahjanto and Jason Eisener, and will take us:
…inside a darkened house looms a column of TVs littered with VHS tapes, a pagan shrine to forgotten analog gods. The screens crackle and pop endlessly with monochrome vistas of static-white noise permeating the brain and fogging concentration. But you must fight the urge to relax: this is no mere movie night. Those obsolete spools contain more than just magnetic tape. They are imprinted with the very soul of evil.
V/H/S/2 cast includes Kelsy Abbott, Hannah Al Rashid, Fachry Albar, Oka Antara, Devon Brookshire and more. Let us know what you think about the clip & stay tuned for even more horror-updates!