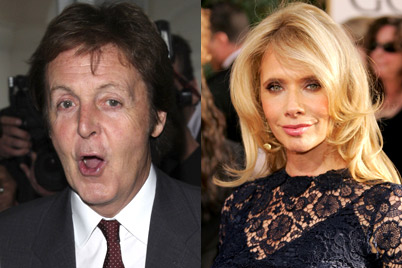 About a month after photos of ex-Beatle Paul McCartney and a New York City trucking-company heiress hit the tabloids, new reports are linking Sir Paul to someone a bit more recognizable.
The musical mogul was photographed over the past week with actress Rosanna Arquette, and the two were seen holding hands, the New York Post reports. The Post goes on to report that Britain's News of the World caught the two in England while McCartney's supposed new girlfriend, Nancy Shevell, was recovering from an illness in New York.
Shevell, a 47-year-old board member of the Metropolitan Transit Authority in New York City, said "I'm sorry, I don't want to talk about it," when a Post reporter inquired about the situation.
Arquette has had several prominent roles throughout her career, including co-starring in 'Desperately Seeking Susan' and was in the infamous adernaline shot scene in 'Pulp Fiction.'
The Post reports that McCartney and Arquette went on two dates on consecutive nights. McCartney's spokesman, Paul Freundlich, said that they refuse "to comment on Paul's personal life or business affairs."