As we've told you before, the first trailer for Oscar-winning Michel Gondry's next big movie, Mood Indigo (French: L'Écume des jours) has just arrived.
Based upon Boris Vian's 1947 novel of the same name, the films stars Romain Duris (The Beat that My Heart Skipped), Audrey Tautou (Amelie), Omar Sy (The Intouchables), and Gad Elmaleh (Midnight In Paris). The screenplay was co-written by Luc Bossi and Gondry himself.
There's not a lot of dialogue in this French-language teaser which displays Gondry's wonderfully symmetrical eye for a touch of whimsy that comes from the giddiness of love, and the pain that accompanies it.
The film tells the story of the wealthy inventor of the cocktail-mixing piano who marries a woman, who develops an illness during their honeymoon thanks to a water lily that enters her lung, and the only way to treat the ailment is to surround her with fresh flowers — an expense that soon drains his funds.
The film opens in France on April 24th, 2013 and has yet to announce a U.S. release date.
Watch the first trailer for Mood Indigo that packs a wealth of Gondry-esque imagery inside.
[youtube]http://www.youtube.com/watch?v=kkgtLs0W8SI[/youtube]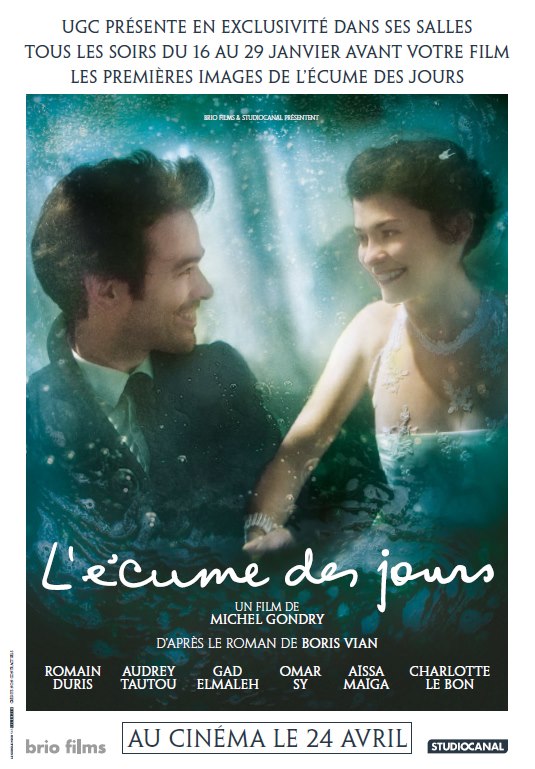 Source: The Playlist