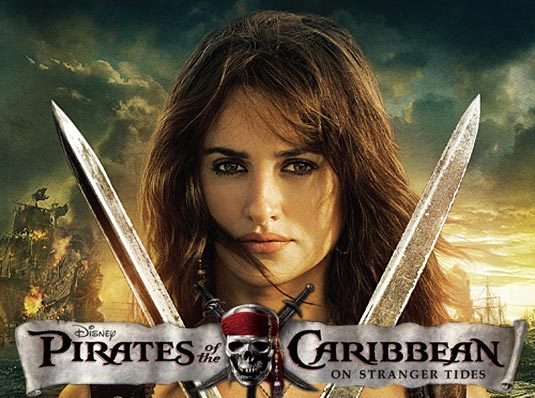 Walt Disney Pictures has released the character poster for their highly anticipated flick, Pirates of the Caribbean 4: On Stranger Tides, which features Penelope Cruz as Angelica.
Along with Cruz, the film also stars Johnny Depp,  Geoffrey Rush, Ian McShane, Richard Griffiths, Stephen Graham, Gemma Ward, Judi Dench, and Keith Richards.
Johnny Depp returns to his iconic role of Captain Jack Sparrow in an action-packed adventure. Crossing paths with the enigmatic Angelica (Cruz), he's not sure if it's love — or if she's a ruthless con artist who's using him to find the fabled Fountain of Youth. When she forces him aboard the Queen Anne's Revenge, the ship of the formidable pirate Blackbeard (McShane), Jack finds himself on an unexpected adventure in which he doesn't know whom to fear more: Blackbeard or the woman from his past.
Directed by Rob Marshall (Chicago), Pirates 4 is scheduled to hit 2D and 3D theaters on May 20th, 2011.
Check the full poster out below: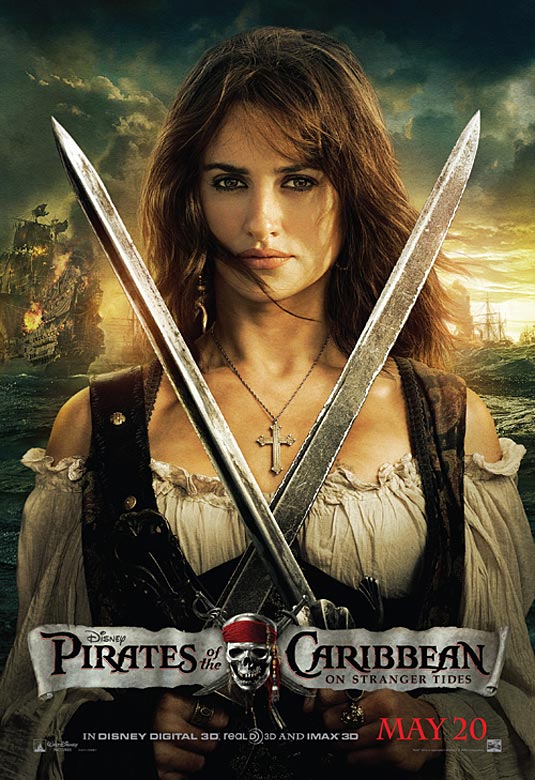 Penelope Cruz as Angelica, Pirates of the Caribbean 4: On Stranger Tides Poster
Angelica – Character Description: With Blackbeard and Jack Sparrow in her life, it's no wonder beautiful Angelica is a pirate dangerous to match swords with, let alone hearts. A woman who tells lies that are truths and truths that are lies, Angelica may or may not be the daughter of the feared Blackbeard himself. A master of disguises, she learned the art of the con from the best, one Captain Jack Sparrow. An accomplished sailor who can wield a sword, fight and plunder with the fiercest of pirates, Angelica is hell-bent on one goal: to save the eternal soul of Blackbeard from certain damnation, even if it means matching Captain Jack lie for lie and double cross for double cross.