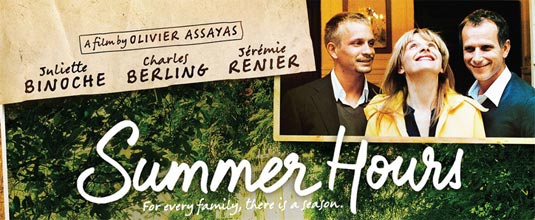 The poster for delightfully melancholy, bittersweet film "Summer Hours" (L'heure d'ete-France) has been released.

The divergent paths of three forty something siblings collide when their mother, heiress to her uncle's exceptional 19th century art collection, dies suddenly. Left to come to terms with themselves and their differences, Adrienne (Juliette Binoche) a successful New York designer, Frédéric (Charles Berling) an economist and university professor in Paris, and Jérémie (Jérémie Renier) a dynamic businessman in China, confront the end of childhood, their shared memories, background and unique vision of the future.
Assayas's most fully satisfying film for some while, this is a warm, wise drama about the tensions and mysteries of family life. With a seemingly loose but meticulously assembled narrative in the style of his earlier ensemble piece 'Late August, Early September', it chronicles the interactions between the various characters with psychological subtlety and precision, even as it explores the changing roles played by art, property, work and blood-ties in an increasingly globalised world. [TimeOut London]
The film is directed/writed by Olivier Assayas (Paris, I Love You, Clean, Sentimental Destinies), stars Juliette Binoche, Charles Berling, Jeremie Renier, Edith Scob, Dominique Reymond, Valerie Bonneton, Isabelle Sadoyan, Kyle Eastwood, Alice de Lencquesaing and Emile Berling. "Summer Hours" has already appeared at the Toronto, Rome, New York and São Paulo Film Festivals and is now scheduled to appear in US theaters on May 8th, 2009, in limited release.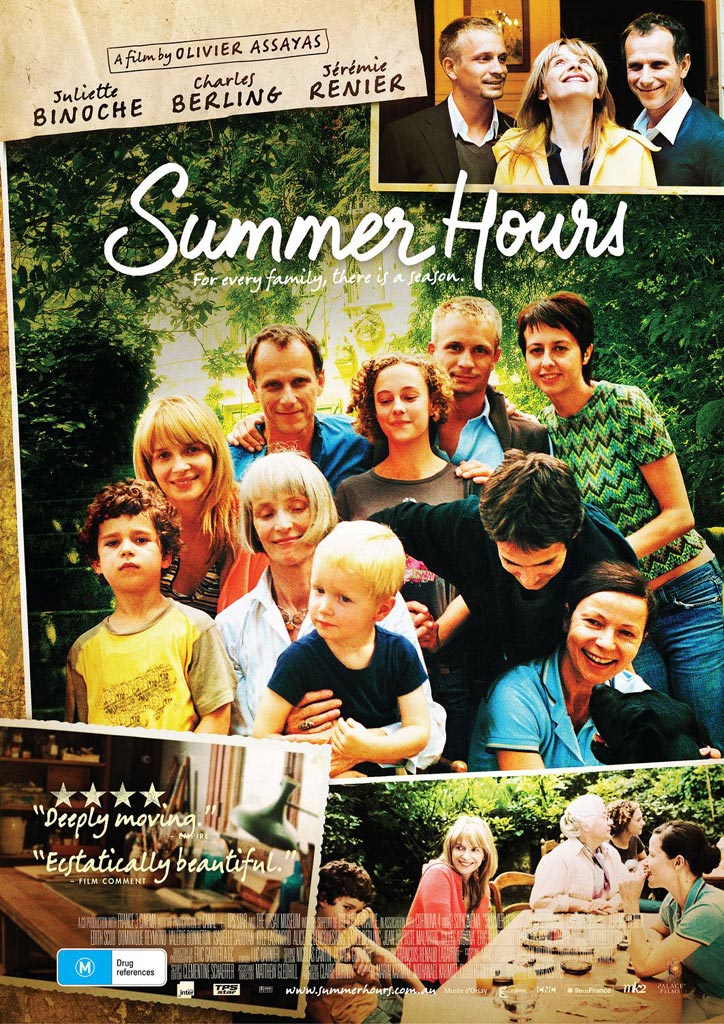 Summer Hours trailer
[dailymotion]http://www.dailymotion.com/video/x4b3uc_bande-annonce-lheure-dete_shortfilms[/dailymotion]