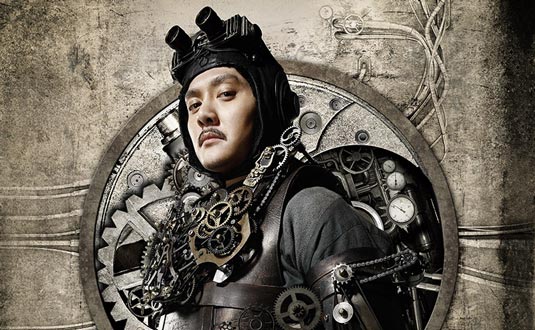 Here's a new trailer for Stephen Fung's Tai Chi 0, one that showcases a combo of traditional kung-fu accented by a steam-punk aesthetic and accompanied by dub-step. Check it out below: Synopsis:
In legendary Chen Village, everyone is a martial arts master, and uses a powerful form of Tai Chi in all aspects of their life. Yang has arrived to try and learn it, only to find that it's forbidden for the villagers to teach their secret style to an outsider. But when a mysterious man comes to town with a frightening steam-powered machine and plans to build a railroad through a village, the villagers realize they may have no choice but to put their faith in Yang, who has a secret power of his own. With action directed by the legendary Sammo Hung (Ip Man 1 & 2), Tai Chi 0 is a full-on steampunk kung-fu throw down that will knock you out of your seat.
The film stars Yuan Xiaochao, Angelababy, Tony Leung Ka Fai and Shu Qi. Tai Chi 0 opens stateswide in limited release on October 19th, 2012.