Movie News
'Pulp Fiction' screenwriter Roger Avary arrested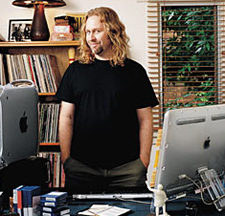 Oscar-winning screenwriter Roger Avary was arrested Sunday on suspicion of manslaughter and driving under the influence after a Ventura County car crash that killed a man and injured Avary's wife, authorities said.
Avary, 42, was the driver in the single-car collision shortly after midnight in Ojai, said Captain Ross Bonfiglio of the Ventura County Sheriff's Department.
Killed in the accident was Andreas Zini, 34, a resident of Italy who was apparently visiting the couple. Firefighters cut Zini from the car with Jaws of Life and he died several hours later at Ventura County Medical Center.
Avary's wife Gretchen, 40, was ejected from the car and found in the road by deputies, Bonfiglio said. She was hospitalized in stable condition.
Avary was booked but later released on $50,000 bail, Bonfiglio said. He did not know whether Avary has hired an attorney.
Avary won an Academy Award along with Quentin Tarantino for writing "Pulp Fiction," and was also a co-writer of the recent epic "Beowulf." He and his wife live in Ojai, a popular artists' colony and tourist destination 14 miles north of Ventura.