Movie Trailers
Tribeca Film Festival Indie Drama CAROLINE AND JACKIE Bar Clip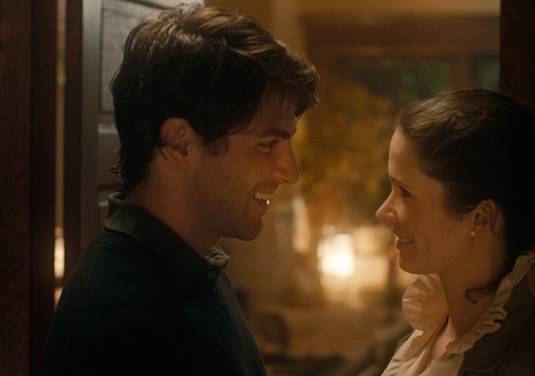 2012 Tribeca Film Festival kicks off today in Lower Manhattan and
Adam Christian Clark
's debut feature
Caroline and Jackie
is impressive dinner-party-gone-wrong drama making its premiere at the Festival on Saturday, April 21st. The film will be screened in out-of-competition Viewpoints section; the program established last year that highlights personal stories in international and independent cinema.
The character-based drama stars Marguerite Moreau (Shameless), Bitsie Tulloch (Grimm), David Giuntoli (Grimm), Valerie Azlynn, David Fuit,
and
Jason Gray-Stanford
. First, check out the plot details below:
When Caroline (Moreau) throws a surprise birthday party for her sister Jackie (Tulloch), what starts as an evening with friends quickly devolves into a somewhat less than celebratory occasion, as Caroline divulges an ulterior motive in bringing the group together. But this revelation is only the first in a night that will ultimately change everything. As old gripes are resurrected and old patterns fallen into, Caroline, Jackie, and their guests are pushed to the edge, and their bonds are tested by the emotional mayhem only sisters can wring. Injecting his dinner-party-gone-wrong story with genuine tension and an emotionally raw tone, first-time filmmaker Adam Christian Clark plays intelligently with identification, carefully dealing out information, motivations, and character developments to shift the audience's sympathies and illuminate the surprising complexities of the relationships he is dissecting. Clark strips away the layers of Caroline and Jackie's fraught relationship right up until the film's devastating conclusion, making for a truly riveting and multifaceted relationship study.
Then check out the first clip, which offers a compelling scene provided by Jackie and her boyfriend as their feelings are laid bare outside a bar. [youtube]http://www.youtube.com/watch?v=YnX-HqH7UZY[/youtube]