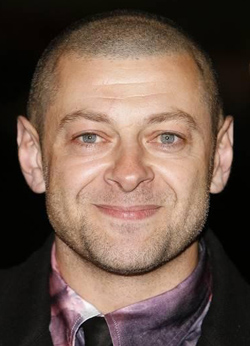 Andy Serkis has joined the cast of the Rise of the Apes, the Planet of the Apes prequel, expected for a summer 2011 release.
Nothing to be surprised about, right, since we all know Serkis is more than familiar with voicing (or if you prefer, playing) digital characters (Gollum in the Lord of the Rings, and Kong in King Kong). So, that's quite a monkey business for this actor. Just a joke.
Director Rupert Wyatt will be in charge for Rise of the Apes movie that will follow "a scientist who is working on a cure for Alzheimer's and testing it on apes.
The potential cure causes the test subject "Caesar" to evolve rapidly and scientist must protect him from the doctors who want to harm the animal. Little does he know that trying to find a cure of Alzheimer's and protecting a defenseless ape will lead to the destruction of human civilization."
So, Andy Serkis is set to star as Ceaser in Rise of the Apes portraying chimp who leads the simian revolt".
And what about the rest of the cast? The film will co-star James Franco, Freida Pinto and John Lithgow.
James Franco is set to play above mentioned scientist, while Lithgow will play Franco's Alzheimer's stricken father and motivation for finding a cure. Pinto will play a primatologist. Shooting will take place in British Columbia with a release date for June 24, 2011.
We'll keep an eye on this story. Stay tuned.