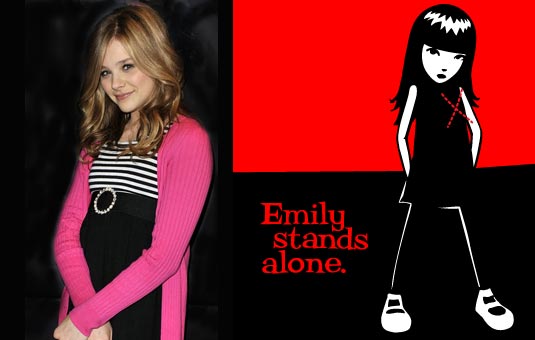 Chloe Moretz (Hit-Girl in Kick-Ass and next stars in Let Me In) will star as the title character in Emily the Strange.
Universal Pictures has acquired the rights to the Dark Horse graphic novel created by Rob Reger and his company Cosmic Debris Etc. Inc. in 1993.
Here's what Reger told the site about Chloe Moretz's casting:
"When I first met Chloe I knew I found my Emily. She really identifies and understands the character, and has what it takes to bring her to life."
Chloe will play the title character, a 13-year old sardonic emo girl whose best friends are four cats – Mystery, Sabbath, Miles and NeeChee.
Dark Horse's Mike Richardson will produce, while writer with Rob Reger will executive produce.
Emily the Strange comes to theaters in 2013.
Moretz's other upcoming projects include Martin Scorsese's adaptation of the bestselling children's book Hugo Cabret, the sequel to Kick-Ass and the crime drama The Fields.
What do you think of Moretz being cast as Emily the Strange? Any fans of Emily the Strange like hearing this news?
Emily the Strange: The Lost Days Trailer
[youtube]http://www.youtube.com/watch?v=YSos0QIcyMo[/youtube]