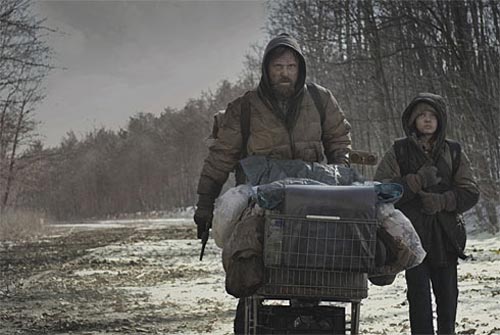 USA Today has published the first photo from the upcoming adaptation of the best-selling novel "The Road". The photo showcases the main stars Viggo Mortensen and 12 year old Kodi Smit-McPhee.
John Hillcoat is directing.
Academy Award nominee Viggo Mortensen, Academy Award winners Robert Duvall and Charlize Theron, Guy Pearce and 12-year-old Kodi Smit McPhee star in the big-screen adaptation of Cormac McCarthy's best-selling, Pulitzer Prize-winning novel, "The Road" – the story of a man (Mortensen) and his young son (Smit-McPhee) traveling through a desperate, post-apocalyptic world.
The Road will first appear in L.A. and NY on November 14, 2008. It will then expand into select theaters around the country on November 21 before finally going wide on November 26, 2008.