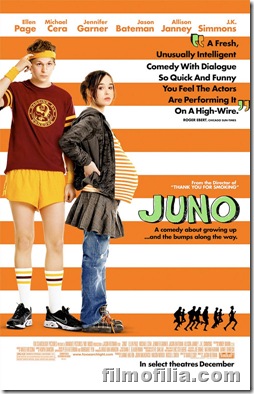 From a first impression, it would seem that all the ingredients are in place for "Juno" – the story of a high school junior who finds herself pregnant – to become the breakout indie hit of 2007. The new-on-the-scene screenwriter with an ear for ultra-snappy, ironic dialogue (Diablo Cody, already garnering comparisons to Tarantino), the super-hip, obligatory-since-"Garden State" indie soundtrack (courtesy of Matt Messina, The Moldy Peaches and Kimya Dawson) and a bevy of quirkily dysfunctional characters. Of course, we've seen those parts not amount to a satisfying whole before (oh Wes Anderson, we hardly knew ye). But in this case, it turns out those first impressions are dead-on. "Juno" is all that and more – a wonderful film with heart, humor and, yes, a great soundtrack.
Directed with a welcome ease by Jason Reitman, who with "Juno" emerges fully from dad Ivan's shadow, the film opens with the titular 16-year-old administering several home pregnancy tests, all with the same outcome: positive. The father? None other than the king (or is it court jester) of awkward comedy Michael Cera, who plays Juno's partner in sexual awakening Bleeker (don't ask about the character's names – Juno's little sister is called Liberty Bell). Juno and Bleeker handle the news with a real, understated grace. They're kids; they think they can handle anything. After a brief flirtation with abortion, Juno opts for the other A-word and finds what she considers to be perfect adoptive parents (played to yuppie perfection by Jason Bateman and Jennifer Garner) in the local Pennysaver. All this before she even informs her parents. When she finally does, it's done almost as a business meeting – Juno wouldn't want a big show of tears. Her family isn't unloving, nor is it smothering. It's just … normal. Father Mac (J.K. Simmons, given a fine, meaty role), is an air conditioner repairman who loves his daughter as best he can. Step-mom and dog-lover Bren (Allison Janney, always a pleasure) steers happily clear of the evil stepmother role in none-to-subtle ways.
As Juno, Ellen Page proves that her fine work in the borderline-exploitative pedophile-torturefest "Hard Candy" was no fluke. At a mere 20, this young actress can carry a film with uncommon, unaffected sincerity, even when the script calls for her to be impossibly, unbelievably, at-times annoyingly precocious (Juno is fluent in all things pop culture – from the Stooges to Dario Argento). Ms. Cody's zippy script has a parlance all its own (characters are prone to terms like "wizard" and "honest to blog") which Ms. Page wears like an old shoe. The script is also uncommonly generous to its cast; there's not a bad role (or performance) in the bunch.
[youtube]http://www.youtube.com/watch?v=QuN0Z65sp5c[/youtube]
As the soon-to-be adoptive mom, Jennifer Garner gives a heartbreaking performance, creating a woman who wants nothing more than to be a mother, even though she may have forgotten why. I'll say it flat-out: you've never seen work like this from the actress best known as the latter half of Bennifer II. Likewise, Jason Bateman – a sturdy comedic presence since his resurgence in the much-mourned "Arrested Development" – delves into unseen depths as her husband.
To call "Juno" this year's "Little Miss Sunshine" is high praise indeed, and it's also well-deserved. But Juno herself wouldn't want to be categorized like that. She'd prefer to think of herself as an original – or at least a throwback to something more "old school". Regardless, "Juno" has more in common with this year's equally-charming but frothier "Waitress". Like that film, pregnancy is the thread that binds the story and leads the characters along their inevitable arc. The destination may be predictable, but the journey is what counts. Birth, the cycle of life, all that. That's about as old school as it gets.