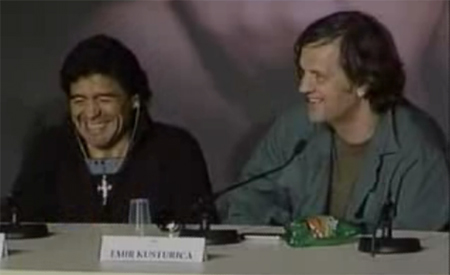 We previously wrote about Kusturica's 'Maradona' movie and short interview with Diego Maradona at Cannes Film Festival.
Acclaimed filmmaker Emir Kusturica traces the remarkable story of soccer legend Diego Maradona in this documentary featuring music by composer Manu Chao. Maradona has a reputation as the people's champion, an athlete who rose from humble beginnings to achieve worldwide fame, and who has overcome incredible adversity to become a living legend. As the director and his subject grow increasingly intimate, Maradona reveals details about his life that have never come to light in the public eye. A tour of the places that mean the most to Maradona offer a unique look at the way the soccer star was shaped by his surroundings, and conversations with the people closest to him offer a unique glimpse into his colorful personality. A conversation with Cuban leader Fidel Castro highlights how even the most powerful personalities become awestruck while speaking about Maradona.
YouTube has a bunch of clips and trailers for this documentary. I thought you might enjoy this.