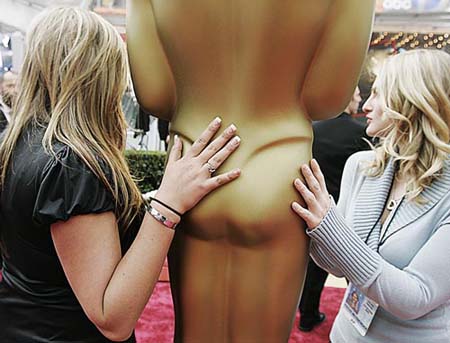 What happened with all good old films that used to make us cry out of laughter? Really, guys, I want to see some movies that will make me laugh.
Ok, maybe we became too occupied with every day routine, maybe we still think too much about our jobs, money, family problems? Problems with our neighbors? No, no, I'm not hinting on any movie… (yet)!
While watching this year's Oscar nominations, one can't help but wonder – why isn't there category for best Comedy? Go out and tell some director – "man, that was a good job, here's the Oscar!" Is it possible that somewhere out there does not exist some great, funny masterpiece that will make our stomach hurt?
Or is there some problem in Academy policy that just thinks that is not worth our attention? And yes, we do understand that we're living in some crazy time, where money rules everything, so we're not trying to act like some saints with mission to return stumbled world on a right direction. We just want to laugh! From time to time! Are we asking too much?! Or, does that cost too much?
Let us put things this way. Good comedy requires good script. That's truth. Good comedy requires excellent, or let us say – delicate sense of humor. That's truth. But most of all, comedy requires good, and quality actors, because, you will agree, not every face out there have a possibility to make you laugh. That's also truth. So we have three main arguments that sit on the side of comedians. Where's the problem then? Seems like these facts are some marginal issue.
Of course, now you can tell me – "but wait, the most important thing is to support innovative things. Escape reality! You can watch some comic TV show or something. Do you see that everyone's trying to reach something new, different, not seen yet…after all you have Golden Globe, that is the right place for those comedians to go out and have all the fun in the world."
Yeah, yeah, I saw that coming, but I still want to know – why is our central award show so afraid of Comedy? I accept even the "laugh-wrinkles" answer! Anything! Is it possible that one minute comic situation in some high-budget drama is enough to represent the art of comedy on Oscar night?
I already hear the voices – "name me one good comedy movie that deserved to get nomination". C'mon people, what about The Men Who Stare at Goats, The Informant!, He's Just Not That Into You? Or 500 days of Summer!!??
Perhaps The Hangover, The Proposal? … Whatever Works, The Invention of Lying, The Ugly Truth, Nobody, Adam, I Love You, Man, Extract, Zombieland, Couples Retreat, It's Complicated…?
It's not just the best picture category that is typically anti-comedy, the best actor/actress categories also usually favor dramatic performances over comedic ones.
If we take a little look at the past, we'll find next statistic fact – the following are the only 'comedies' that have won Best Picture: It Happened One Night (1934), You Can't Take It With You (1938), Going My Way (1944), Tom Jones (1963), The Sting (1973), Annie Hall (1977).
Short list, huh, and the last one that had a luck to win was more than 30 years ago? But movies started out as a comic medium, and laughter has played a significant role in both the birth and the popularity of film as an entertainment industry, we must not forget that.
And this year we have what kind of situation? We have "Up in the air"-  mix of drama and comedy, and dark comedy "A serious man."
So there you go. Pretty thin report on comedies nowadays. Will this thing ever change? We can only hope. Sometimes I can't help but think that maybe at one point, we became too critical of comedies, so they decided to turn their backs on us?
Ok, now I beg you – Comedy, return to our lives as soon as possible!