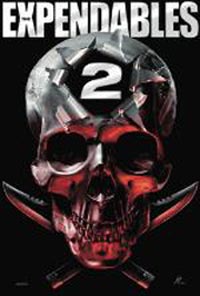 This must be my lucky day! Sunny day, cup of coffee, and a skull with number 2. No, I'm not hallucinating, that skull with number 2 on it is actually a promo image that NuImage has released for The Expendables 2.
As you already know, The Expendables 2 is currently set to open on August 17, 2012, and thanks to the guys from Nu Image, we now have the synopsis part as well!
So, check it out: "The Expendables are back and this time it's personal! After Tool (Mickey Rourke), the heart and soul of the Expendables, is brutally murdered on a mission, his comrades swear to avenge him.
They're not the only ones who want blood. Tool's beautiful young and wild daughter Fiona embarks on her own revenge mission, complicating matters when she is captured and ransomed by a ruthless dictator plotting to destroy a resistance movement. Now Barney and the Expendables must risk everything to save her and humanity."
No surprise here? Guess not, expect brutally murdered Mickey Rourke.
And that "saving humanity" part, you see, that's why Stallone is my hero!
Although, The Expendables 2 doesn't yet have a director and we also don't know who will return from the original cast (Rourke obviously won't have a big part in it).