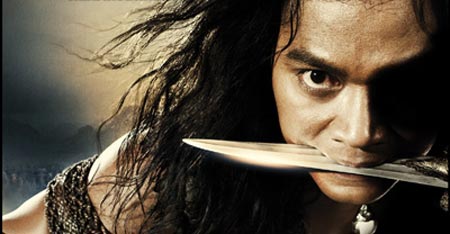 Three new posters for the upcoming Tony Jaa's "Ong Bak 2" have been released. The third poster includes the shot of new character played by Dan Chupong (poster #3).

A young man in the Ayutthaya period grows up among villagers who preserve the legacy of the traditional khon masked dance. He becomes an outcast when he finds that his firm limbs weren't made to pursue the specialty of his ancestors, but with the advice of a mysterious guru he's able to develop a new style of fighting which mixes the strength of martial arts with the regal elegance of khon dance. Then he's ready to go out and fight the enemy.
Ong Bak 2 is directed by Thai martial artist Tony Jaa himself as his first feature film. The script was written by stunt coordinator and filmmaker Panna Rittikrai who previously wrote the screenplay for "Ong Bak" and "Born to Fight".
All signs are that the film will indeed be ready to meet its December release date (4. Decembre), a date that has just been shifted one day to fall on the King's birthday, which is considered a very auspicious day in Thailand.
Must watch: Fantastic "Ong Bak 2″ Promo Reel