Movie News
The Weinstein Company Wants To Censor The King's Speech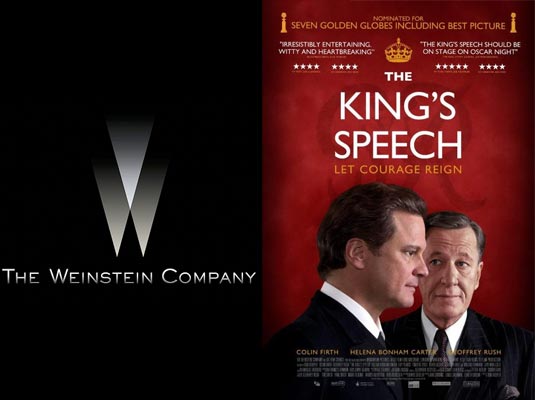 The movie's executive producer and distributor
Harvey Weinstein
is ready to set free a new marketing strategy that aims to seize more movie going public who normally wouldn't go near a historical drama about a British king. That risky decision makes re-editing the movie to erase course language and secure a lower rating that will open
The King's Speech
to a broader audience. Weinstein, whose New York-based studio the Weinstein Co. released the film, said he is talking with director
Tom Hooper
about trimming the blasphemy that earned the film an R rating in order to get a PG-13 or even PG. The movie rating system has had a number of high profile critics ever since. Film critic
Roger Ebert
for instance, argues that the system places too much accent on sex while allowing the violence. Moreover, Ebert argues that the rating system is more focused on trivial aspects of the movie such as the number of times a profane word is used rather than at the general theme of the movie. In Britain, a 12-and-over rating has helped "The King's Speech" to top the box office chart for the last three weekends, beating such bigger budget pictures as
Gulliver's Travels
and
The Green Hornet
. Weinstein said:
The British numbers are huge because the rating lets families see the movie together. Tom and I are trying to find a unique way to do this that keeps his vision of the movie."
Weinstein unsuccessfully appealed the MPAA in November to lower the R rating without any changes in the picture. A recut version wouldn't hit theaters until after the Oscars on Feb. 27. But the Weinstein Co. has aggressive plans for the $12.3-million-budget production leading up to that date. Beginning this weekend, the distributor will expand the film to about 2,500 theaters in the U.S. and Canada from 1,680, making it accessible to nearly every moviegoer. To go to the highest level and match such crossover blockbusters as
Brokeback Mountain
or
Slumdog Millionaire
, Weinstein Co. will have to attract those who usually turn out for mainstream. The indie veteran, who has been known for know-how marketing tactic to boost his pictures since 1991's
The Crying Game
, when he ran Miramax Films, has another secret strategy to use it for the most nominated "King's Speech." You can bet on it.